Many of the places where you spend your money promise the world. They say they're all about the customer and make it sound like they'll do everything short of sacrificing their first born to assure your satisfaction. It all sounds great until they're pressed to follow through and deliver. Frequently one hears the words "our policy" repeatedly, and nothing happens.
Then there are the establishments that openly admit up front there are limitations to what they are willing to do. However, they're extremely good at it. The latter describes Carstens' Bakery.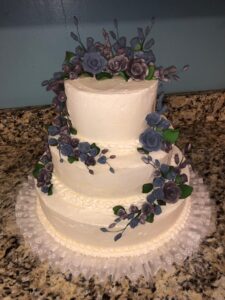 Carstens' is a small bakery that's been in the same space and owned by the same person since 1968. Ben, the grandson of the owner and a fifteen year employee of Carstens', was very open about what they did and didn't do.
What they do is make the best wedding cakes they can from century old recipes and the best ingredients they can find. Their buttercream frosting is made with cream from Reed's dairy here in Idaho Falls. Their chocolate ingredients are made from Dutch Guinea coco.
However, without flinching, Ben is very open about what Carstens' doesn't do. They don't; make fondant cakes, use black food coloring, make faux wedding cakes and, by the way, if you want a wedding cake sample they'll sell you a small cake for ten dollars. Carstens' has been at this for 52 years. As far as they're concerned, you should know how good their cakes taste.
Carsten's does all this old-timey stuff and is still price competitive. Their wedding cakes start at $59.50 for a two tier cake that will serve 35 and go all the way up to $480.00 for a six layer that will feed 250. Old fashioned buttercream decorations are included in the price but they offer; real and silk flowers, ribbons and sugar flowers at an additional cost. All custom wedding cakes are quoted on a per-case basis.
Ben enjoys making wedding cakes. He said that he's been making more cakes recently but they're smaller than in the past; two to three tiers for most couples.
Ben had a few things to pass on to couples:
Be careful when you pick up the cake. Ben had a guy try to bear hug a cake when he picked it up and ended up with a frosted tux.
Wedding cakes don't come in boxes and, unless they have columns holding up each tier, they're fully assembled when you pick them up. Keep that in mind when you decide which vehicle to pick the cake up in.
Ben is experienced enough to gauge how much cake a couple should get. He said it's a common mistake to order too much. He said there's always a difference between how many people are invited and how many show up.
Ben asked that wedding cakes be ordered two to three weeks in advance. He needs a week's notice at a minimum so the cake can cool. That lets it solidify. He compromised with a couple once and had a cake come apart because it was soft.
Some my say that Carstens' bakery is a bit rigid and doesn't make the sculptures that some cake artists make. However, if you buy a wedding cake from Carstens' you'll know exactly what you're getting; a pastry made from scratch with the best ingredients to the standards of someone who has maintained a beloved business for fifty-two years.